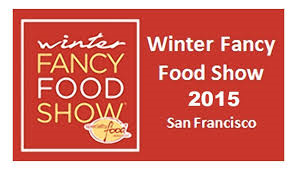 It was another fabulous show in San Francisco.  With over 80,000 products from 1,300 exhibitors representing the latest in specialty foods and beverages from across the U.S. and 35 countries, what more could a foodie ask for?  My head was in a different place this year as I walked the aisles.  While I visited old friends to see what was new, I had my eye out for all things sugar, grain, dairy,  and gluten free.  With the new year, I am trying to eat a Paleo diet to both improve my "numbers" and drop a few pounds.  Are you as amazed as I am that EVERYTHING has sugar in it?  Though my focus was Paleo friendly, I also found many amazing things that I cannot wait to try, in a few months, in moderation!
I am so proud of my friend Isela.  Look at her on the cover of the show guide!  Isela launched HERNÁN products in 2007.  Today HERNÁN products continue to encompass a respect for Mexican traditional design with a functional and contemporary sensibility. Their goal is to open up new markets for artisans and producers that would normally not have an audience outside of Mexico. To address issues on both sides of the border closer to home, a percentage of profits will be invested in the HERNÁN foundation in Del Rio, Texas. HERNÁN is headquartered in Del Rio, Texas
I first tried her amazing Mole Poblano at the Summer Fancy Food show in 2013.  Isela is preparing to launch a Pepita (Pumpkin Seed) Mole Sauce this Spring.  It is delicious and will be amazing with grilled fish.  Be sure and check out the beautiful Mexican cookware and hot chocolate on her website!
It's so wonderful to see all the successful women in the Specialty Food industry continue to grow.  Chef Lena Kwak launched Cup4Cup gluten free flour and baking blends just a few years ago and has already been honored as one of Forbes' "30 Under 30 Innovators" (2012), one of Zagat's "30 Under 30″ and as an "American Made" award recipient from Martha Stewart.  Way to go Chef!  We cannot wait to see what is next.
I was walking down the aisle and saw my favorite, home town Boat Street Pickles.   I looked up and Chef Rene Erickson was in the booth. On the heels on a very successful launch of her book: A Boat, A Whale and a Walrus,  I was really surprised, and thrilled, to see her there!  She is one of the hardest working women in the food biz today!  If you eat oysters anywhere other than Rene's the Walrus and the Carpenter, well then….I'm not really sure you had a fresh oyster!
The team was sampling the new Pickled Cherries.   As with all the pickled products, they were amazing and would be a delightful addition to a cheese plate or roasted meats.
Speaking of Chef's and cooking and baking and all those pots and pans and clean ups….I hope you all are using parchment parper!  Have you tried The PaperChef's Parchment?  It is the only one you can dampen with water and form to your baking pan!  Amazing!
Check out this Smoked Brown Sugar and Smoked Olive Oil from Darkhorse Specialty Foods
I took a sniff of the Whiskey Smoked Brown Sugar and my mind started racing.  Caramels, pork roast, apple pie, ice cream….the possibilities are endless.   Same goes for the Olive Oils.  Perfect for adding a soft, smoky flavor to sautéed vegetables, fish, and marinades.  Their website has awesome recipes.  Brenda and Al have a big hit on their hands with a crowded booth and celebrity chef endorsements, I am looking forward to a whole lot of smoky goodness from these folks!
Sometimes there are amazing things in your own back yard and you don't even know it.  This pure, simple, elegant bottled water is from Oregon. Cascade Mountain Spring Water was fortunate to gain access to Ginger Springs, which is a product of one of the world's finest natural water resources. The spring is located at the base of Mt. McLoughlin in the Southern Cascade Mountain Range of Oregon. This pristine mountain spring is well known for its high quality water, which begins life as rain and snowmelt that penetrates into the Earth's surface. The water is then naturally filtered by volcanic rock absorbing high quality minerals resulting in a clean refreshing taste that is a perfect balanced pH (pHerfect).
There must have been 30 or more booths showing jerky.  Jerky is definitely an awesome, portable on-trend snack and comes in any flavor and protein source you can imagine.  However, jerky without sugar; in one form or another, is hard to find and I had almost given up, until I came upon the EPIC booth.  The makers of the Paleo friendly EPIC Bar definitely have another hit on their hands! Awesome products!
This is hard to admit but I HATED Brussels sprouts until a few years ago.  Dave has always like them, and insisted on them with his Christmas roast.  I dutifully prepared them and discreetly choked them down every year.  Once I finally slow roasted them with olive oil,  life changed.  Now one my favorite vegetables, we even put them in salads, raw! Here's one more great way to enjoy this cruciferous bulb of glory from Wonderfully Raw: new packaging and a brand new flavor of Brussel Bytes!
Like many of you, I have tried a lot of gluten free products over the years.  The Paleo diet has further restrictions making any kind of palatable mixes or prepared foods even more difficult to find.  I was thrilled to come across Simple Mills.  Created by a mom who needed allergy free food for her family, the products are delicious and Paleo friendly!
On trend and perfect for snacking are Real Sticks from Vermont.  RealSticks are gluten free and contain 50% less fat and 40% less salt than the leading snack sticks, and at least 80% less sugars than the leading sports bars. RealSticks are low (0-2) carb, dairy free, no MSG, and no artificial anything. No preservatives. Just 2 WW points in each 1-oz stick.These are delicious, portable, convenient.  As someone who travels frequently, I can tell you I have a few of these in my back pack at all times!  In case you don't know, Sofi Awards are the food equivalent of an Oscar!
The beautiful packaging of this canned seafood from Geomar caught my eye.  The story, the taste and the quality made me very happy I stopped to check it out!  Sustainably harvested seafood from very deep waters off the coast of Chilie,  produced in a state of the art facility and exported around the world.
Smoky was an apparent emerging flavor and theme this year so this brand new, pure liquid smoke was a pretty cool find! That is all that is in the bottle – concentrated smoke!  Amazing….and a little goes a very long way! Check out Lazy Kettle Brand Liquid Smoke!
If you follow my blog, you've heard me rave about the amazing American made cured meats from La Quercia.  I put the Speck (smoked prociutto) in all sorts of things!  I wasn't the only one who stopped by their booth to tell them how much I love their products!  All the pork is humanely raised without the use of antibiotics, on family farms around the mid-west.   They were sampling their new Spicy Prociutto Spread….it was delicious!
From my ever inventive friends at Peanut Butter and Company come two new product lines:  Powdered Peanut Butter and their spin on Dulche De Leche – Yum Bunny.  Oh my goodness….YUMM!  The powdered peanut butter has 85% less calories than traditional peanut butter, yet retains all the protein, fiber and delicious peanut flavor!  Perfect for your morning smoothie, peanut sauce, or baking! Congratulations Lee and Team!  You definitely have another hit on your hands.
I was drawn to the Lafaza booth by the delightful smell of fresh vanilla!  I am so happy I stopped in as I ended up learning a lot.  Like many of the companies exhibiting at the specialty food show, Lafaza has a unique story to tell.   Lafaza was founded by a couple of Peace Corp pals.  They spent a combined 20 years working side by side with the farmers who grow LAFAZA vanillas. These former Peace Corps Volunteers, are certified food managers, researchers, and business people –  and lovers of the people, places, and wonderful products of Madagascar.  Many of their partners have been growing and curing vanilla beans in environmentally sustainable ways for over four generations.  Lafaza is bringing us beautiful products from a beautiful environment with a business model to sustain healthy longevity for all.  Well done Lafaza!
Our favorite Bob's Red Mill has new packaging as well as some new sugars! Look at the 28 ounce bag of Sparkly Sugar – perfect for those of us get a little cookie crazy at the holidays!
I'll just leave you with a few more candid shots of some of my favorite people and products.  Enjoy!
Have a great evening,
Laura
*These reviews and opinions are entirely my own.  My blog is my personal hobby and is not affiliated, endorsed, or associated in any way with my employment.  I am not being compensated in any way for these comments, endorsements or photographs. Thank you, Laura.